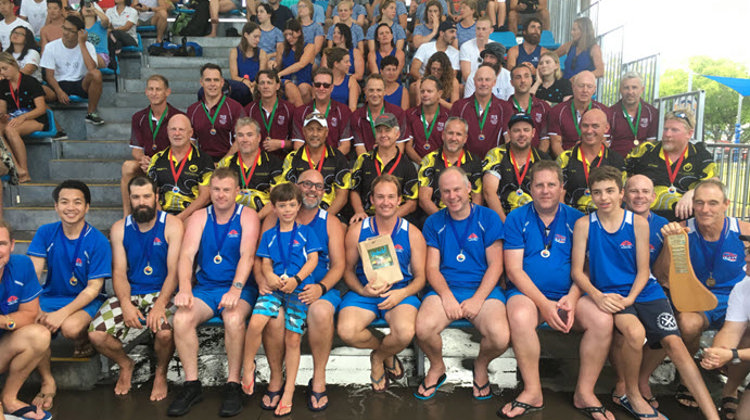 2019 Australian UWH Nationals
TEAM RESULTS
NSW MASTERS – GOLD MEDAL
Captain/Coach- Phil Ackerman
MVP- Charl Pieterse*
A comprehensive campaign for the masters this year going through the competition undefeated with some dazzling displays of hockey from centre forward Nat Marshall making his representative comeback, as well as numerous breakaways from the Zambian Gazelle – Charl Pieterse.
The team was also bolstered by a few kiwi imports who represented NZ Masters in Quebec, Eric Hebner and Iain Curtain, as well as Tristan Reynard from CMAS fame (all legal imports of course).
Their campaign looked like it was about to go off the rails in the grand final when they were up 2-1 but had 3 players in the sin-bin. However these experienced campaigners pulled through and were able to finish the final winning 7-2 over WA. The Zambian Gazelle was also awarded the MVP trophy for his efforts during the final.
This was the 3rd consecutive gold medal for the NSW masters, and hopefully the start of a QLD Origin style dominance for years to come.
*As awarded by the match officials in the grand final.
NSW ELITE MEN – SILVER MEDAL
Coach- Gary Rosewarne
MVP- Emmanuel Zapata*
The make-up of the elite team was chopping and changing in the weeks leading up to the competition. Due to various reasons, only 5 of the squad of 12 from last year's silver medal winning team could back up this year.
However, the boys were bolstered with a few late confirmations from stalwart Stewart Parkinson, travelling Frenchman Lucas Feyton and our young Colombian Emmanuel Zapata – forming a speedy forward line to which coach Gary Rosewarne was quoted as saying "NSW has never had speed like this before" (even when Thomas Milner was in the team ).
The boys put on some dominating displays over the Victorian men's team over the course of the competition, had some mixed results against Queensland and WA, but finished the round robin in 2nd place and going straight to the final against WA. The boys had some tight results against the reigning premiers WA during the round robin, losing 4-3 in one match and drawing another match. They knew if they could stick to the game plan, control the game and find a white stick they could topple the experienced WA team.
However during the match, it wasn't our game. A few crucial errors in critical points of the game gave WA a lead of 3-1 at halftime and they raced away to finish the match 6-1. Nonetheless, the NSW men were pleased with their dominant campaign and will be looking to go one better in 2020.
*As awarded by the match officials in the grand final
VIC U/15s – 4th Place
Our own Isaak Campbell played for the VIC U/15s as there was no NSW junior team to play for this year unfortunately.
By all reports, our Most Improved Player from the 2018 NSW State Titles had a fantastic competition and was one of the stars in the VIC team that unfortunately did not make the finals.
Keep your ear out for opportunities for your child to represent the NSW U/15s or U/19s in 2020, hopefully we can scrape together a team with lots of youngsters starting to pop up over the state.
ACT WOMEN – 10th Place
Coach- Nicky Herald
We had four NSW women playing with the ACT girls, who after some great development work by Fiona Game in Canberra were able to field their first women's team in yonks.
Mother daughter duo Jenny and Nicola Kennedy, Giulia Risorto and Caitlin Parr (technically a Queenslander but studying in Sydney), helped to consolidate a development team made up of young players and experienced womens players.
The women's competition was of a great standard this year, with the division made up of 5 Australian and 5 international teams, which the ACT girls found difficult to compete against.
Though the only way for them is up, and NSW UWH wishes the ACT ladies all the best next year whether they are competing as an ACT only team or composite ACT/NSW team again.
AUSTRALIAN SELECTIONS
The squads for the U/19s and U/23s are a bit up in the air this year due to a drop in numbers of nominees to go to Sheffield for the Age Group World Championships in August.
Caitlin Parr and Emmanuel Zapata, as well as former NSW juniors Jack & Will Hopkins, were in their respective squads but final selections will occur in March and a decision will be made then on which teams to send based on numbers and competitiveness of those teams.
At this stage there is no senior international competition scheduled for 2019. The Hawaii Pan-Pacific competition is unable to go ahead this year due to an issue with the pool.
UHA are looking at options for a competition to prepare our players for the senior worlds in 2020 (location TBA). Keep your ear out for updates from UHA if you are interested in representing the elites or masters at a competition this year.
Well done to all NSW athletes who went away and represented NSW (or other states/territories).
Ben Stepkovitch
President
NSW Underwater Hockey Inc.
1 Feb 2019