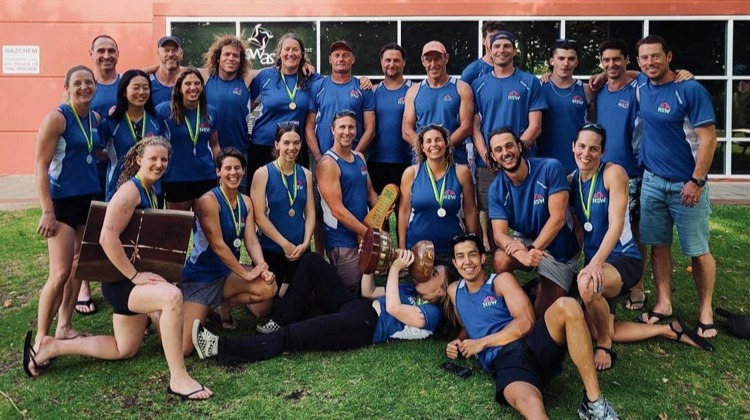 3. 2023 Australian UWH Nationals
Bunbury hosted the 2023 Australian Underwater Hockey Championships, showcasing the great development of the sport in Western Australia's Southwest Region, with representation of players of all ages from Bunbury and nearby Collie, Busselton, and Margaret River. The competition was attended by 27 teams from all across the country in addition to an elite women's team from Singapore. NSW sent three teams - elite open, elite women, and masters open; in addition some of our junior athletes played for other states as we could not field a team this year.
TEAM RESULTS
NSW MASTERS
GOLD
Coach – Phil Ackerman
MVP – Ryan Heckenberg
The NSW masters team struggled to submit a team right up until the registration deadline. Normally most of the team would just be playing in the masters division but this year they had to rely mostly on players already playing in the elite opens or womens divisions, with most players having to play 4 games a day across both divisions. They opened the competition with a 1-1 draw in their first game of the round robin against heavyweights WA. The team then managed to cback it up with other strong performances through the round robin ended up scraping first place going into the finals on equal points with WA. They made the final after beating QLD B in the semi-final. The final was a tit for tat nailbiter. With scores locked up 1-1 in the second half, a speedy breakaway goal from winger Jacko Smit sealed the win for the team, their first gold since 2019.
NSW ELITE WOMEN
GOLD
Coach – Ben Stepkovitch
MVP –Sarah Tindal
The NSW women's team had a scare in their opening game, with two players sustaining injuries in a hard fought win over QLD. These players had to manage their injuries over the round robin but were able to make a reappearance in the finals. Shout out to Mariana who had to play a few games with her other hand after injuring her thumb in that opening game, and also moved up to the cover the centre which hadn't been planned for coming into the competition. The teams only loss in the round robin was to TAS, and when they met again in the semi final the team was able to overcome them with a strong performance. They didn't have the element of surprise when they faced reigning premiers WA in the final, but were able to put in another strong performance, winning the final 4-1. This was the first gold medal for the NSW womens team since 2011.
NSW ELITE MENS
5th Place
Coach –Joel Hattie
MVP –Darren
The NSW opens team entered a younger squad this year with a few fresh faces that were eager to go away and learn about elite level uwh in Australia. The team unfortunately didn't manage to scrape any wins together or make the finals, but their strongest game was a 1-1 draw against the barbarians in the second round of the round robin. The team was buoyed by the passion, enthusiuam and excitement of vice-captain Luke Martin, who made a return to the NSW team after a 10 year hiatus. Viewers may know Luke from his passionate commentary of NSW games streamed on youtube over the competition. The only way from here is up for the NSW elite opens team.
REFEREES
Thanks to those who gave up their time to referee the competition, including Julian from NSW.
AUSTRALIAN SELECTIONS
Congratulations to those NSW players that were selected in their respective Australian teams or squads* to compete at the upcoming Underwater Hockey World Championships on the Gold Coast in July 2023:
Elite men: Joel Hattie
Elite women: Mariana Araujo, Catalina Chica Perez, Sarah Tindal
Masters men: Jacko Smit, Ryan Heckenberg, Stewart Parkinson
Masters women: Marion Creser, Andrea van Eyysen, Lena Plembeck
Squads for the Australian U19 and U24 teams to compete at a Trans-Tasman competition later this year are yet to be selected.
---
Well done to all NSW athletes who went away and represented NSW (or other states/territories).
Special mention to Isaak, Jack P, and Jack S from NSW who won bronze with the South Australia Under 19's team.
Special mention to Cara and Hayley from NSW participating in their first competition who won bronze with the Victoria Under 15's team.
Regards,
Ben Stepkovitch
President – NSWUWH
president@nswunderwaterhockey.com