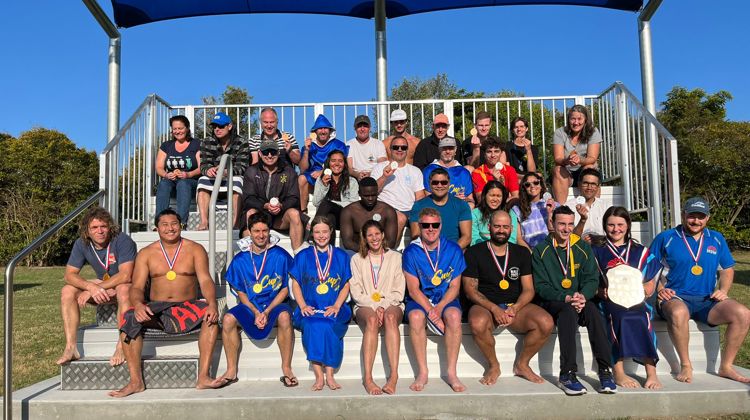 1. NSW State Champs
We extend our heartfelt appreciation to the Newcastle Underwater Hockey and Stockton Swimming Centre for graciously hosting our 2023 State Titles on the 4th of November. It was a day filled with thrilling competitions, camaraderie, and sportsmanship, showcasing the vibrant underwater hockey community in New South Wales.
The event witnessed some intensely contested matches, with clubs from across NSW, including Newcastle, Sydney, and Wollongong, going head to head in the pursuit of glory. We are also immensely grateful to the Barbarians for making the journey from Queensland to participate in the tournament, adding a competitive and amicable spirit to the proceedings.
A special highlight of this year's State Titles was the introduction of a junior (U16s) division, marking a significant milestone in the development of our sport. We owe a great debt of gratitude to the dedicated coaches, Nat, Coby, and John, for their unwavering support and mentorship, helping our young athletes grow and thrive in this exhilarating sport.
Looking ahead to the future, we are excited about the prospect of welcoming newly formed clubs from the Central Coast and Mudgee at the 2024 NSW State Titles. It is a testament to the growing popularity and inclusivity of underwater hockey in our region, and we can't wait to see how these new clubs will add to the dynamism of our competitions.
Lastly, but certainly not least, we must acknowledge the outstanding performances of our Senior MVP, Nick Hind, and Junior MVP, Cara Gibson. Their dedication and exceptional skills on the underwater hockey court stood out among a sea of talent, and they deserve all the accolades they receive.
The 2023 State Titles were a resounding success, exemplifying the spirit of sportsmanship, passion, and teamwork that defines underwater hockey in New South Wales. We look forward to even more remarkable moments in the years to come and are immensely grateful to all who contributed to making this event a memorable one.
Results:
| | | | |
| --- | --- | --- | --- |
| | Seniors | | Juniors |
| 1st | Sydney Rakali | 1st | Sydney Wallumil |
| 2nd | Sydney Raiagon | 2nd | NewGong |
| 3rd | Wollongong | 3rd | Sydney Gayadari |
| 4th | Newcastle | | |
Photos taken by Ali Gibson and Francis Yanga
Regards,
Isaak Campbell
president@nswunderwaterhockey.com